In the commercial and industrial workplace, infrared thermography is commonly used to inspect electrical systems and flat roofs. However, there are several other areas nhere use of an Infrared Survey can provide valuable information.
• IR Building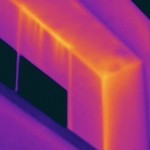 Envelope Survey – locate moisture infiltration; identify areas of air infiltration/exfiltration; provide document for LEED Certification
• IR Mechanical Survey – inspection of rotating equipment, bearings, motors and generators, refractory, boilers and furnaces, and process piping
• InfraSonic™ Steam System Survey – condition assessment of existing systems; quality assurance of installations; provide documentation for LEED Certification
• IR Underground Pipe Survey – provide quality assurance of new installation; document location of existing pipelines; locate areas of leaks avoiding extensive excavation
Some other unique surveys using Infrared thermography include studying underground tunnels for water infiltration, locating restrictions within heater or boiler tubes, counting wildlife, or law enforcement.