Infrared Mechanical System Surveys – Help maintain the efficiency
Infrared Mechanical System Surveys are commonly performed on rotating machinery, refractory, boilers, etc. to locate thermal patterns of mechanical system components.
Infrared thermography is a form of non-contact, non destructive testing used to detect and document thermal patterns and associated temperatures of mechanical system components. Performed regularly, infrared inspections of mechanical systems can help to identify latent or incipient equipment failures.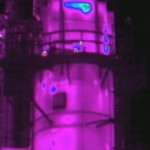 Our Infrared Surveys are performed by Infraspection Institute Certified Infrared Thermographers® using high resolution infrared imaging radiometers. This equipment detects infrared energy emitted from an object and converts it into and image which is displayed on a monitor screen.
When an area or component with an unusual temperature differential is located, our thermal imager is used to measure the temperature of the problem area. The thermal image may then be recorded on video or computer media in black and white and/or color.
Once the temperature and location of a problem area has been noted, a hardcopy record of the thermal image is produced. These Thermograms, along with a standard photograph and our problem definition, provide you with the necessary information to correct a problem before it becomes serious.