Educational Seminars & Training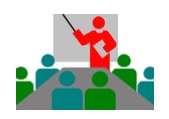 Jersey Infrared Consultants offer educational programs for your staff or organization. These informational programs are presented by Level III Infraspection Institute Certified Infrared Thermographers® and are designed for tradespersons, maintenance staff, upper management, project managers, engineers, and architects.
Presentations provide participants with insights on applications of infrared thermography, as well as related nondestructive testing. They review common applications such as infrared inspections of electrical and mechanical systems, flat roofs, building envelopes, and steam systems.  They also cover new applications including, but not limited to: infrared inspection of solar fields, energy audits, and LEED certification.
Presentations are open to individual companies or professional associations.  Attendees receive PowerPoint Handouts, scopes of work, and support information to help apply the presented information to their projects or facilities.

Who Should Attend:
Contractors & Consultants

Healthcare & Hospital Personel

Manufacturing Supervisotrs

Property Managers

School & University Administrators

Maintenance Staff

Reliability Technicians
What is Thermography?
What Are the Applications for Thermography?
Who Should Perform an Infrared Inspection?
Why Hire an Infraspection Institute Certified Infrared Thermographer®?