The two most common problems identified during Infrared Building Envelope Surveys are missing and/or damaged insulation, and the presence of latent moisture.
The Infrared Building Envelope Survey can identify different two types of energy loss that occur within a building envelope. The first type of energy loss is conduction. Conduction losses are most often due to missing/damaged or water-saturated insulation within the building wall and/or roof. Under proper weather and site conditions, Infrared Building Envelope Surveys can detect and document evidence of latent moisture within building sidewalls, including EIFS.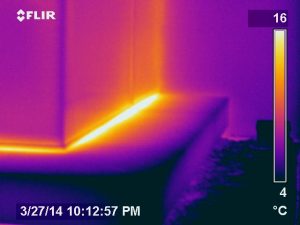 The second type of energy loss is air leakage. Air infiltration or exfiltration can occur at numerous locations within a building envelope, through seemingly insignificant cracks and openings. Air infiltration can be detected when Infrared Building Envelope Surveys are performed from the interior of the building; exfiltration may be detected when the infrared survey is performed from the exterior of the building.
Infrared Building Envelope Survey by Jersey Infrared Consultants
All Infrared Building Envelope Surveys performed by Jersey Infrared Consultants are completed by Infraspection Institute Level III Certified Infrared Thermographers® using high-resolution infrared imaging radiometers. This equipment detects infrared energy emitted from an object and converts it into an image which is displayed on a monitor screen.  All equipment used and procedures followed during the Infrared Building Envelope Survey meet or exceed the current industry standards.
When an area or component with an unusual temperature pattern, or a thermal anomaly, is located, the associated infrared image is electronically recorded.  This image, or infrared thermogram, is usually stored in black and white as well as color.
Infrared Building Envelope Survey… after the problem area is located
Once the problem area has been located, a hardcopy record of the thermal image is produced. These Thermograms, along with a control photograph and explanation of the problem, are combined into a report to provide you with the necessary information to correct a problem.
Jersey Infrared Consultants provide infrared inspection services, including Infrared Building Envelope Surveys, specializing in commercial and industrial applications.  We offer qualitative and quantitative infrared inspections for preventive and/or predictive maintenance, legal documentation, and research and development projects.