Infrared Flat Roof Moisture Surveys are used to detect and document moisture location within a roofing system. The presence of moisture in a low slope roofing system causes changes in the thermal properties of the roof. Usually conducted at night, an IR Survey uses thermal imaging equipment capable of detecting evidence of latent moisture due to changes in either the thermal conductivity and/or thermal capacitance of the roofing system.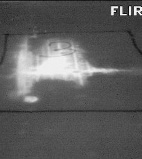 On a sunny day, a roof surface heats up uniformly. After the solar loading is off the roof, the roof surface begins to cool. Since wet insulation has a greater thermal capacity, those areas of the roof containing wet insulation cool off much more slowly than those areas of the roof with dry insulation. By utilizing an infrared imager during post sunset hours, areas of wet insulation are readily located based on their elevated temperature.
When an area of the roof with an elevated temperature is located, an invasive test is performed to verify the presence of moisture. This eliminates the possibility of false positive data as a result of variations in membrane materials, roof composition or other environmental factors. If moisture presence is confirmed, the perimeter of the moisture-damaged area is outlined with spray paint on the roof surface.
The infrared image or thermogram is recorded, along with the size, location and details of each problem area. This information is incorporated into a comprehensive report that may be used to plan future repairs, record existing conditions, or provide legal documentation. Reports from an Infrared Flat Roof Moisture Surveys provide useful information in many applications including:
Quality assurance of a new or retrofitted roof
Condition assessment prior to warranty expiration
Insurance Claims to locate extent of storm damage
Real Estate Transaction (sale or lease) to verify roof condition
Pre-bid Documentation to quantify the amount of roof to be replaced
Legal Cases to provide documentation of the condition of the roof
Having performed Infrared Surveys for nearly 30 years, Jersey Infrared Consultants is a leader in commercial and industrial Infrared Thermography. Our experienced Infraspection Institute Certified Infrared Thermographers® perform IR Flat Roof Moisture Surveys with appropriate state-of-the-art equipment, and in compliance with current industry standards.