How is an Infrared Survey for petrochemical facilities different?
An infrared survey for petrochemical facilities has a number of specialty applications not found in electrical, mechanical and structural applications. These include, but are not limited to, Infrared Surveys of the interior components of operating process heaters and furnaces for both qualitative and quantitative measurements.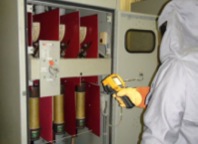 In order to perform infrared petrochemical survey inspections accurately, imaging radiometers outfitted with flame and high-temperature filters and telephoto optics are required along with an experienced thermographer who understands the special and extreme conditions associated with operating units.
Performed regularly, an infrared survey for petrochemical facilities can help identify latent or incipient equipment failures,  Such information can help to prevent unscheduled downtime, and improve the output of process equipment without compromising safety.
Our Infrared Surveys are performed during an infrared survey for petrochemical facilities by Infraspection Institute Certified Infrared Thermographers® using high-resolution infrared imaging radiometers. This equipment detects infrared energy emitted from an object and converts it into an image which is displayed on a monitor screen.
When an area or component with an unusual temperature differential is located, our thermal imager is used to measure the temperature of the problem area. The thermal image may then be recorded on video or computer media in black and white and/or color.
Once the temperature and location of the problem area have been noted, a hardcopy record of the thermal image is produced. These Thermograms, along with a standard photograph and our problem definition, provide you with the necessary information to correct a problem before it becomes serious.
_____
Jersey Infrared Consultants' safety compliance, background check, and drug screening programs are a part of our commitment to providing an unequaled level of client care and quality service.  Our diverse inventory of equipment and experienced staff allow us to customize infrared surveys to meet your facility's needs.
We work with recognized organizations, including ASNT, ASTM, and Infraspection Institute, to develop standards and guidelines for infrared thermography.  Our staff regularly conducts training classes, publishes technical articles, and participates in continuing education, enabling us to remain a LEADER IN THE INDUSTRY.