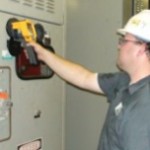 Because infrared imagers cannot 'see' through solid objects, accurate infrared inspections of electrical switchgear require the removal of panel covers to provide a direct line-of sight to subject components.  Often, panel cover removal/replacement is the most time-consuming aspect of an infrared inspection.  One alternative is the installation of IR switchgear windows.
The benefits of installing IR Windows include:
With over 30 years experience, Jersey Infrared Consultants are uniquely qualified to answer questions you may have related to IR switchgear windows. We offer a wide range of switchgear windows and can install them for you.