Correct Vantage Point for Infrared Building Envelope Surveys
There is no "one size fits all" when planning and performing an Infrared Building Envelope Survey.  Whether the survey is being conducted to locate moisture, identify air leakage, or provide an overview for energy certification are some of the first factors to be considered when deciding the vantage point for an Infrared Building Survey.  Other factors that should be discussed when planning this type of survey include:
• environ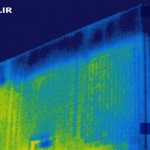 mental and weather conditions
• building structure and composition
• line-of-sight access to exterior walls
• budget and time constraints
• most importantly, the goal or purpose of the survey
Contact Jersey Infrared Consultants to discuss information specific to your site and to develop a scope of work that fits your needs.