Taken at face value, certification generally indicates one's level of formal training. This training, combined with experience and knowledge of the system or structure being inspected determine a thermographer's qualifications. The American Society for Nondestructive Testing document, SNT-TC-1A provides suggested criteria and experience under the Thermal/Infrared Test Method. Recommended curricula and classroom hours are listed below.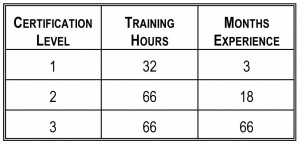 In short, it is up to you to determine your facility's needs and to verify that the Infrared Thermographer performing your survey meets those needs.
All Infrared Surveys performed by Jersey Infrared Consultants are conducted by Level III Infraspection Institute Certified Infrared Thermographers®, in accordance with current industry practices and published standards. Certifying our personnel to the highest level possible and providing regular continuing education underscores our commitment to providing our clients with the best service available.