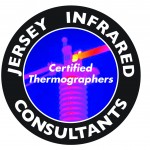 The importance of an Electrical Equipment Checklist for IR Survey is something no one disputes. However, an Electrical Equipment Checklist can sometimes be labor intensive and time consuming.
Based on 30+ years of experience, Jersey Infrared Consultants offers this Electrical Equipment Checklist to help you plan for your next Infrared Electrical System Survey.
Electrical Equipment Checklist Pre-Planning for the Infrared Survey
Schedule the survey on the "right" day.  Be certain qualified manpower is available to open/close electrical equipment, allowing for vacation and training assignments.  Verify the electrical circuits to be surveyed will be under normal load.
Secure access to all areas.Notify all key personnel or tenants of the date of the infrared survey and how their area will be affected.  Be sure keys and/or access codes are available for all secure areas.
Prior planning saves time. Refer to the routes, or order in which equipment was surveyed, from past surveys.  If unavailable, obtain a list of equipment to be surveyed and its location. Logistics of moving from location to location and any changes in load demands occurring during the day should be considered.
Install Infrared Windows. For a one-time installation, the payback will be improved efficiency and increased safety for each survey.
Jersey Infrared Consultants perform hundreds of Infrared Electrical System Surveys each year.  Contact us with any concerns or for suggestions on how to make your Infrared Electrical Survey easier and more efficient.
Special Areas of Interest and Time Schedules
Please remember that this is a guideline and the final decision of the list of equipment to be surveyed and the frequency is the responsibility of the your firm's personnel.
Incoming Electrical Equipment Checklist 
Incoming Lines
Substations
Transformers
Overhead Lines

Survey every 6 months
Adjust the schedule after reviewing any patterns that develop.
Main Electrical Equipment Checklist
Substations
Transformers
Motor Control Centers
Switchgear

Survey every 12 months
Survey more frequently depending on equipment history, problems located and environmental concerns.
Distribution Electrical Equipment Checklist
Survey every 12 months
Prioritize equipment by impact on operations,safety hazards or demand loads. Revise the frequency of inspection as operations change or patterns develop.
Emergency Electrical Equipment Checklist
Automatic Transfer Switches
Battery Banks & UPS
Fire Pump Panels
Emergency Power Panels

Survey every 12 months
Arrange equipment to be under load at the time of the Survey. Equipment with charge and discharge modes should be surveyed during both cycles.