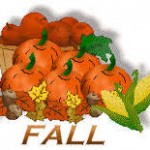 Labor Day has passed – the unofficial end of Summer and the start of Fall.  Although it is comforting to look back on vacation trips, sunshine at the beach and relaxed schedules, one should not be afraid to look forward to Fall: the start of football games, colorful leaves in crisp air and preparation for the holidays.
For businesses, the end of Summer is the end of vacations and plant shutdowns; and the start of preparation for the end of the year and the Winter.
Electrical demands may change, as well as new or repaired equipment coming on-line.  Upcoming seasonal conditions, and shortening repair window, may force the leaking roof to become a priority.  Soon dropping temperatures will put demand on the steam system.
Infrared Surveys can help you prepare your facility for each of these changes.  A follow-up IR Electrical System Survey can verify recent repairs or check equipment previously not under load; Infrared Flat Roof Moisture Surveys can identify the location of moisture in your roof system; and an InfraSonic™ Steam System Survey can yield huge energy savings.  Contact us to discuss any challenges or concerns you have for your site.   We encourage each of you to take the opportunity to enjoy the changes the Fall brings!