What are the common types of Infrared Surveys for Maritime applications?
Infrared thermography is a form of non-contact, non-destructive testing used to detect and document thermal patterns and associated temperatures of a system. Our high resolution infrared imaging radiometers detect infrared energy emitted from an object and convert it to an image which is displayed on a monitor screen.
Typically when a component with an unusual temperature pattern is located, the temperature of the problem area is recorded along with the thermal image. The thermogram, control photograph and problem information are compiled into a report that is available in hardcopy and digital formats.
The most common applications include:
Infrared Electrical System Surveys
Infrared Mechanical System Surveys
InfraSonic™ Steam Surveys
Infrared SOLAS Temperature Surveys
How does an Infrared Electrical System Survey work?
An Infrared Electrical System Survey is performed under normal conditions to help locate problems before they become failures. Performed regularly, infrared inspections of electrical systems can help reduce maintenance costs and improve reliability. Typical equipment inspected includes:
Motor control Centers
Switchboards
Junction boxes Generators
Propulsion Equipment – while underway
Similar electrical components, operating under similar conditions, should exhibit the same thermal or infrared pattern. Unusual thermal patterns may indicate a potential problem involving a piece of equipment. Typical problems detected during an Infrared Electrical System Survey include:
Loose Connections
Faulty Equipment
Overloaded Circuits
Unbalanced Loads
What does an Infrared Mechanical System Survey Cover?
Infrared Mechanical System Surveys routinely inspect the following types of equipment:
Bearings
Shaft Alignment
Wire Ropes and Cables – aboard ship and on docks
Winches and Gear boxes
Propulsion Equipment while underway
Surfaces of mechanical equipment are also inspected to insure SOLAS Compliance.
Performed regularly, infrared inspections can help identify latent or incipient equipment failures. Such information can help to prevent unscheduled downtime, and improve the output of process equipment without compromising safety.
What is an InfraSonic™ Steam System Survey?
InfraSonic™ Steam Surveys utilize BOTH infrared and ultrasound technologies to provide a detailed report of the condition of the steam system. The first step in an Infrasonic™ Survey is use an infrared imager to look at the infrared patterns and check the temperature of the steam supply lines, the condensate lines and the steam trap. Temperatures below 212°F indicate that steam is not present and the cause of the lack of steam must be identified.
The next step is to perform an ultrasound test. Properly working traps are generally quiet, except when cycling. The cycling is a repeatable and identifiable pattern. Typically a hissing or a rushing sound indicates a failed steam trap.
Typical equipment that should be inspected during an Infrasonic™ Steam System Survey include the following:
Steam lines
Condensate lines
Steam traps
Propulsion Equipment – while underway
Having performed Infrasonic™ Steam System Surveys for 30+ years, Jersey Infrared Consultants is a leader in use of cross technologies for InfraSonic™ Steam System Surveys.
What does an Infrared SOLAS Temperature Survey Cover?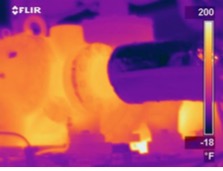 Infrared SOLAS Temperature Surveys help insure that the ship or vessel complies with SOLAS Regulation (Safety Of Life At Sea) reg.15.2.10. In part this regulation states that "No engine room surface should exceed 220°C".
An infrared survey of all surfaces in an engine room can quickly and efficiently identify any surface operating above 220°C for immediate corrective action. A lower temperature threshold, usually approximately 180°C, can be established to identify any surfaces that should be closely monitored.
How do inspections of wires and cables work?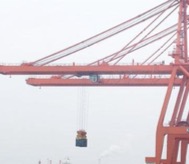 Wire ropes of the on-board or dock cranes can be surveyed to detect increased temperature patterns that could indicate weakening spots in the wire strands. The crane being inspected will be operated with a set weight for a minimum time, or operate in their normal condition. Infrared images will taken of the wire cable as it passes through the sheaves.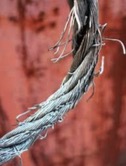 Areas of the wire identified with a thermal anomaly will be marked with paint and documented with a thermal image. These areas will be closely inspected for any related tears, breaks or damage, and a control photograph taken. In addition, the sheaves are inspected for any potential damage including wear marks or damage that could cause or contribute to thermal patterns on the cables.
What safety and/or special requirements apply to Maritime IR Surveys?
Infrared inspections in marine environment pose many unique challenges: safety, access, preparation, and insurance are some of the topics that may need to be addressed.
Infrared Thermographers will need to be aware of and comply with numerous safety requirements. These may include OSHA and Site Specific Regulations, in addition to the National Fire Protection Association document, NFPA 70E. Specific Maritime safety regulations come under OSHA and the U. S. Coast Guard.
All Jersey Infrared Consultants personnel are equipped with the proper PPE equipment. For details or to discuss your facility's specific concerns, please contact us.
What insurance coverage is required for Maritime work?

All work performed aboard a ship, vessel, or any structure not supported by solid land (including pilings and platforms) comes under the Jones Act. Specific maritime workers compensation and liability insurance must be obtained with language that addresses the Jones Act.
Jersey Infrared Consultants is one of the very few infrared firms that have full insurance coverage for maritime inspection.
What should your report include?
Reports should be clear, easy-to-understand, and available in written and/or digital formats. The report will include the following sections:
Introduction covers the procedures followed and provides information to assist understanding the report including priority assessment for problems.
Thermographers Comments will discuss the areas surveyed, number of problems identified and special notation of any serious problems.
Database provides a detailed list of all equipment surveyed, including location, type of equipment, identification, status at the time of the survey, and notation of problems along with their severity (where appropriate).
Problems should be documented with a Thermogram, control photograph with an indication of the problem area, and a description that includes the following information:

Equipment name and location
Ambient temperature (°C and/or °F)
Temperature rise over similar equipment (°C and/or °F) (where appropriate)
Ammeter readings (where appropriate)
Temperature of the trap, supply or condensate line (°C and/or °F) (where appropriate)
Ultrasonic results (where appropriate)
Detailed comments concerning the problem

Avoided Cost Analysis, based on insurance industry statistics, provides documentation of the potential cost savings associated with your specific survey.
Why should you use Jersey Infrared Consultants?
The high standards we set for service and reliability have earned us a reputation for excellence. All Infrared Surveys are performed by Infraspection Institute Certified Infrared Thermographers® using state-of-the-art equipment with direct traceability to the National Institute of Standards and Technology. All thermographers wear the appropriate PPE clothing.
Jersey Infrared Consultants' safety compliance, background check, and drug screening programs are a part of our commitment to providing an unequaled level of client care and quality service. Our reports are clear, easy-to-understand, and comprehensive. They are delivered in a timely fashion in both written and electronic formats.
Our staff regularly conducts training classes, publishes technical articles, and participates in continuing education, enabling us to remain THE firm to hire for your Infrared Survey.